Regular price
$129.99 NZD
Regular price
Sale price
$129.99 NZD
Unit price
per
Sale
Sold out
GOODYEAR - NEWTON MTR TRAIL - 27.5
A tyre that is at its best bringing up the rear while sprinting out the start hut of your race run, as you attack those loose off camber sections, hold the line on rocky chutes and pinballing down rock sections. Drive focused tread delivers speed and durability with tracking performance that inspires confidence transitioning from straight-line to cornering across a wide range of conditions.
The tyre, that small contact patch that connects you to the ground, is arguably the most important part of your bike. When you're in the start hut, about to drop into your race run you need to know that this essential component is designed specifically with the job in mind. What better choice than the tire named after the man who defined the very laws of gravity.
The profile of the Newton range is inspired by the motocross (MX) world. By utilizing a rounder profile for the Newton MTF (front), damping capacity is increased and the tyre footprint is elongated; in the real world, this offers improved straight-line control while providing a greater contact patch for braking. The Newton MTR (rear) maintains a squarer profile and paired with uniform, closely spaced outer knobs. The tyre's wider footprint offers greater drive traction and confidence inspiring transition between center tread to side knobs.
Both tread patterns in the Newton range are available in Trail, Enduro and Downhill specific casing layups. Each casing layup is then paired with multi-durometer compounds developed specifically for the tire's intended application and front / rear use.
The drive-focused tread delivers speed and durability with tracking performance that inspires confidence when transitioning from straight-lines to cornering across a wide range of conditions.
The Newton MTR Trail features our Dynamic Trail2 compound, a trail-specific, dual density 50/60a compound specifically formulated to balance grip, wear and rolling efficiency.
A single-ply, 60TPI casing construction combines exceptional ride quality with outstanding durability. The Armour Protection casing layer delivers bead to bead cut and puncture protection.
Weight: 970g (27.5 x 2.4), 1070g (27.5 x 2.6)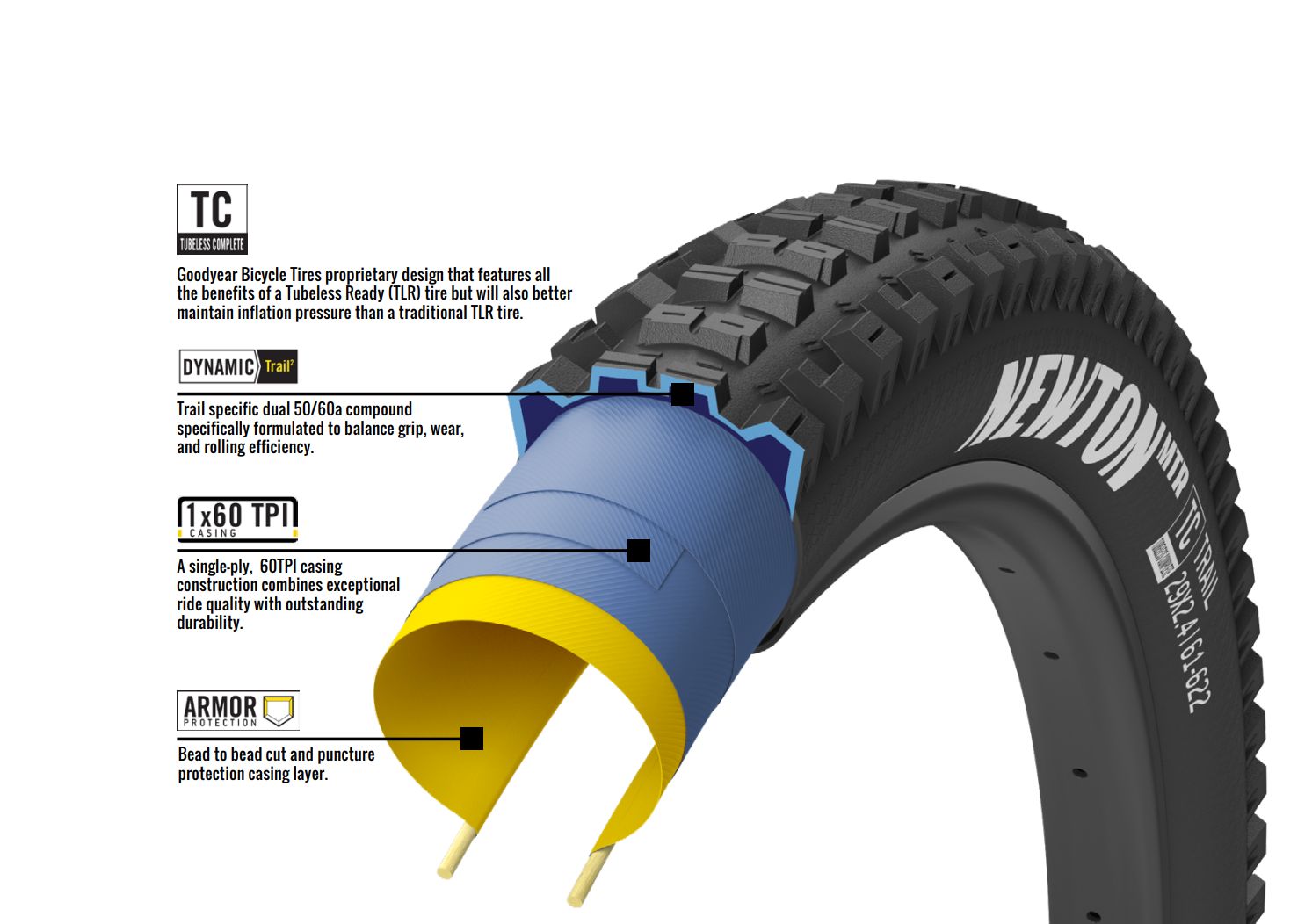 ---
The Story
The Goodyear name first appeared on a tyre — a bicycle tyre, to be precise — in 1898. Since then, Goodyear and the legendary Winged Foot™ logo have been synonymous with victory, dominating the winner's circle across the entire spectrum of motorsports. Goodyear tyres have shouldered heavy-duty work on everything from airplanes to Zambonis. They've rolled on the moon and have helped steer millions of motorists along their journeys.
Now, 120 years after Goodyear's original offering, we welcome a new line of performance bicycle tyres. Developed with Rubber Kinetics, the Goodyear line utilizes refined compounds and casings, each purpose-built for their intended environments.
Share
View full details